Manfrini Intercoop Italy 120 Bass Piano Accordion Akkordeon Fisarmonica
View This On eBay
Starting price:
$900.00
Seller:
musically-creativity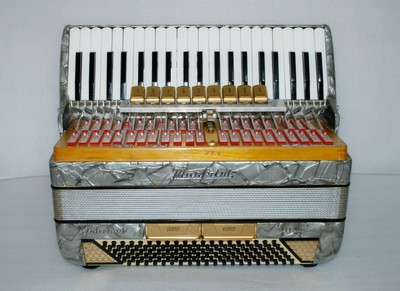 MANFRINI INTERCOOP ITALY 120 bass used accordion in excellent condition.The voices are beautiful and the registers work properly, perfect mechanics.Accordion has excellent compression.Excellent mechanical condition. Beautiful gray color accordion.Accordion has no box for storage! Optimal price for the quality and made.Made in GermanyFINEST ITALY QUALITYPlease look at the pictures above & please also feel free to email us if you have any questions.For more information for travel expenses just msg me. 'Good Luck To Everyone'! : &: 'Thank you for looking'! DETAILS:41 piano keys; 120 bass buttons; 9 treble registers2 bass registers. Shipping worldwide at low prices. Shipping to UK £ 45. Shipping to Greece 25 euros. Shipping to Germany 30 euros. Shipping to Spain 30 euros. Shipping to Romania 25 euros. Shipping to Austria, Hungary 25 euros. Shipping to Belgium, Denmark, Italy, Luxembourg, Poland, Slovakia, Slovenia, France, Netherlands, Czech Republic 40 euros.Shipping to Estonia, Ireland, Spain, Latvia, Lithuania, Portugal, Finland, Sweden 53 euros.Shipping to Russia 60 $. Shipping to Chille 100$. Shipping to Brazil 100$. Shipping to Argentina 100$.Please ask me for the actual price of transport before you make payment!ACCORDION WILL BE COMPLETELY BUBBLE WRAPPED and BASS MECHANICS BLOCKED WITH TAPE. Shipping within the European Union, within 10 working days! Check out my other items!
Category:
Piano
Added on 02/22/2015
*Please note that the current price of this item may be different. This site owner is not the seller of this item.